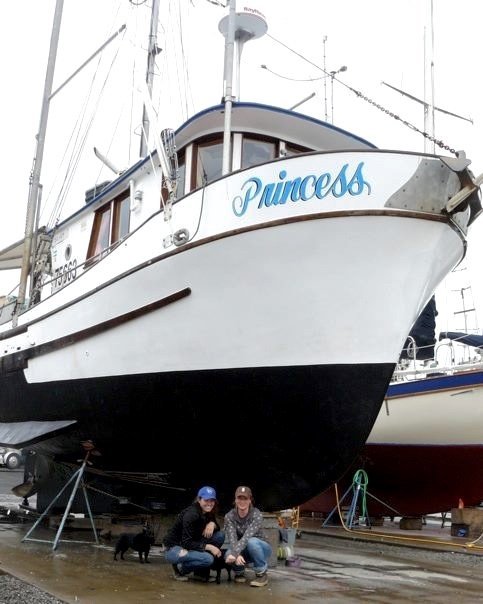 The first question I always get is: Did you name her that?  
No, I didn't. I found her in Nanaimo, Canada in 2008, patiently waiting for me, with that name. She is a 42 foot Seamaster hull, built the same year as her skipper, 1980.  Short, slow and fat (the boat), built for comfort and seaworthiness, not for speed. For a small boat she can pack some fish around, eight tons of fish, to be exact. More than we can usually catch!
Weather and fish depending, an FAS salmon trip can last anywhere from two to eighteen days, the average being twelve days at sea and eight for a tuna trip. The end is usually when we run out of chocolate.... oh, and diesel.
Princess is rigged with two 42 foot aluminum outriggers, cleverly called "the poles", that are set out at a 45-degree angle.  These babies drag our stabilizer fins through the water so we don't roll our guts out while we work. They also spread our hooks out behind the boat in what we hope will be a tangle-free and irresistible pattern. 
Hydraulics are queen aboard the Princess - her single big diesel engine drives several pumps that run the freezer system and all the deck gear like the anchor wench and gurdies.  When heavy things gotta get lifted this is how we do it. 
And when fish gotta get frozen, it's also how we do it.  Her onboard freezer is an amazing thing.  It is so cold that ice cream has to sit next to the diesel stove for a half hour in order to be scooped.  So cold your eyelashes freeze. So cold a whole fish is frozen solid in less than an hour.  It's one of the reasons why the fish we deliver is the highest quality you can find. 
After the season ends (and the chocolate is eaten) The Princess spends her winters commercial crabbing out of Noyo Harbor. 
-Captain Heather Sears